30 September 2021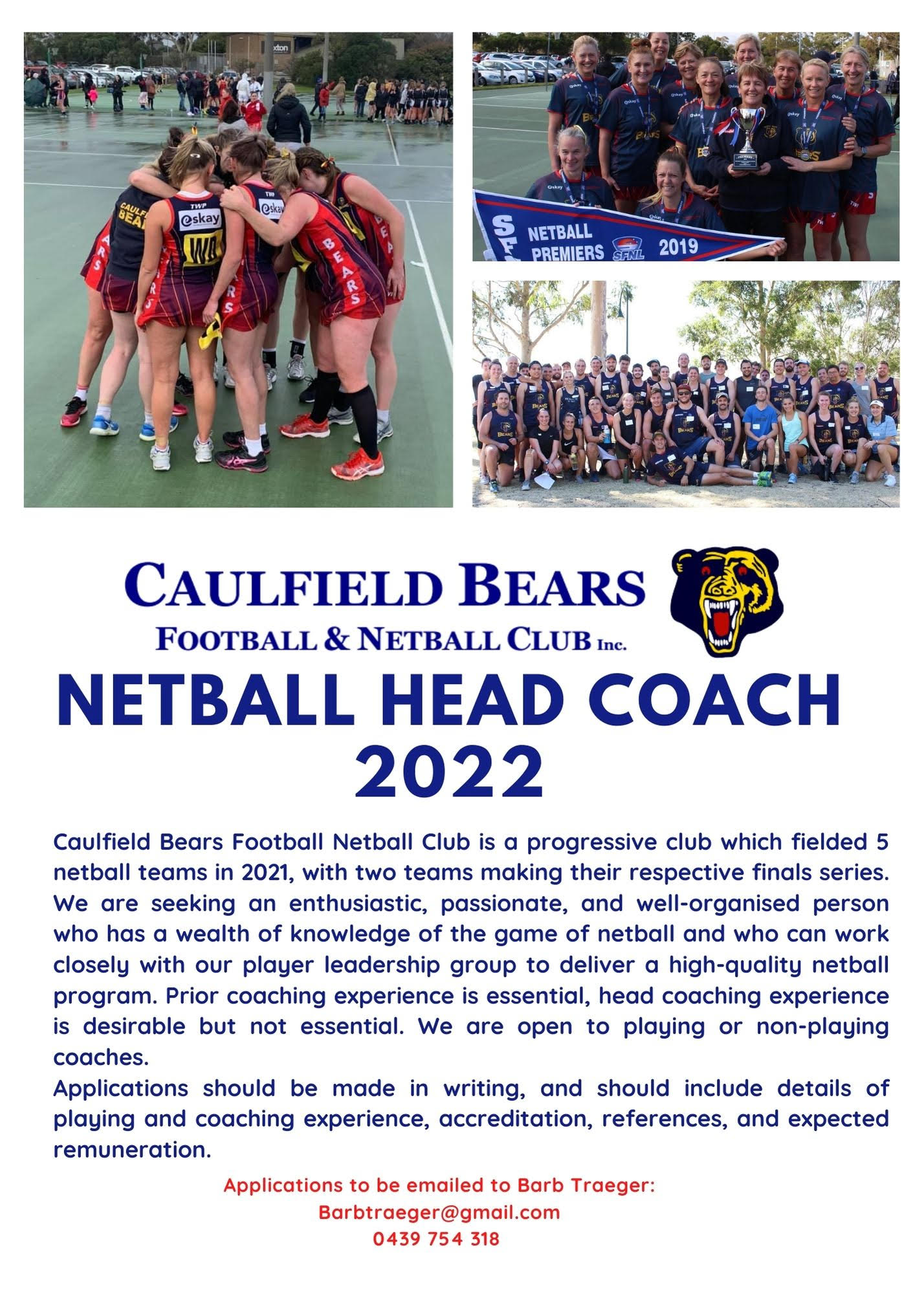 —————————————————————————————————————————————————————————————————————————————-
3 August 2021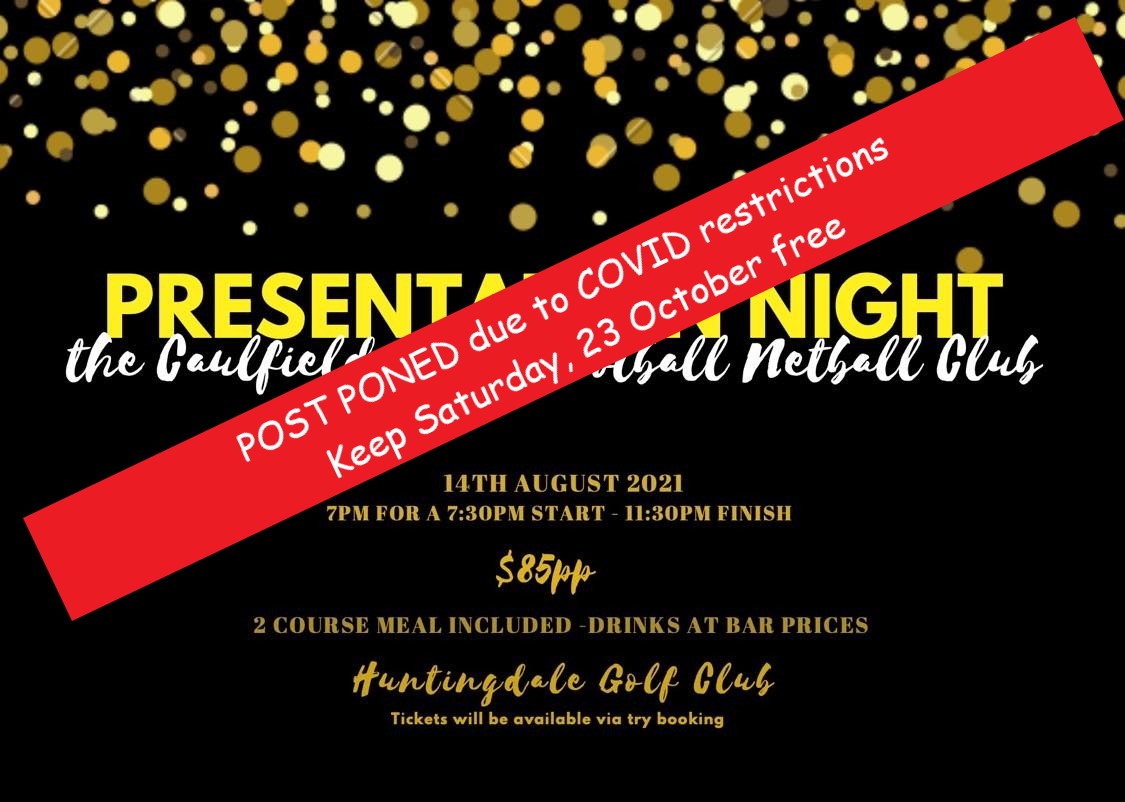 —————————————————————————————————————————————————————————————————————————————-
20 July 2020
FOOTBALL COACH RE-SIGNS FOR 2021
Following the cancellation of Season 2020 due to COVID19 restrictions, we've begun our planning for next season, and it's with great pleasure that I inform you our Head Football Coach, Chris O'Keefe, has re-signed for Season 2021.
Chris has had a big impact on our football program since joining us in late 2018. He inherited a fractured playing group following our tumultuous 2018 season and has managed to not only repair the damage but generate a high-level of excitement and energy into the group in his short tenure with our club.
We look forward to Season 2021 with high expectations of a successful season from the football group with Chris O'Keefe at the helm.
Regards – Darren Stait
—————————————————————————————————————————————————————————————————————————————-
8 July 2020
NETBALL SEASON CANCELLED
Just when we thought it was safe to go back on the netball court, the proverbial has hit the fan, and regrettably the SFNL netball season has been officially cancelled.
The directive from our State Government to return to Stage 3 restrictions for the next 6 weeks made it near impossible for community sport to be played which is really disappointing, and the SFNL Board made the tough decision to cancel the netball season.
The football season was cancelled last week and our under-age teams will also not play this season.
The SFNL is considering organising a netball season during the summer months and I'll keep you informed of any developments in this regard.
Regards, Darren Stait
—————————————————————————————————————————————————————————————————————————————-
3 July 2020
FOOTBALL SEASON CANCELLED
Our governing body (Southern Football Netball League) has decided to cancel the Men's Senior, Reserve and Thirds grades of football as well as Senior Women's football competitions for Season 2020.
At this stage, our netballers will take the court on Saturday 25 July 2020.
Whilst the news of the cancelled season saddens me, the health and safety of all people involved with our Club and community sport in general is paramount, and due to the recent outbreaks and significant increase in the number of positive COVID-19 cases recorded in Melbourne, it was decided the risks have become too great for our football season to proceed.
AFL Victoria recently updated its 'Return-to-Play' protocols (which all SFNL clubs were obligated to conform with) and the changes with regard to limited spectator attendance, change-room capacity, cleaning obligations, etc has also influenced the decision.
So our footy boys will hang up their boots for a few months and look to return in 2021 with premierships in our sights. And from what I've witnessed over the past 6 months having watched these boys approach their sport and the formation of a talented squad, this is a very realistic aspiration.
I think it is also important to recognise our governing body in its efforts to get a football season underway. The SFNL's primary role is to promote the participation in organised sport (in particular Australian football and netball) for Melbourne's southern metropolitan communities and over recent times the SFNL Board and Executive team have been presented with numerous challenges but never once lost focus on their aim to get the competitions underway – and I applaud them for this.
The SFNL was the last of the competitions in the Melbourne metropolitan area to put their 'cue in the rack' which means there will be no community footy in Melbourne in 2020 due to the COVID-19 pandemic which is bloody sad.
But the netball girls will take to the court so we can still get along to support our netball teams.
I'll keep you informed of developments regarding our netball season.
Regards,
Darren Stait
—————————————————————————————————————————————————————————————————————————————-
29 June 2020
SFNL SEASON TO COMMENCE
That's right, after months of uncertainty surrounding whether a winter sports season would happen, our governing body has decided to kick off the 2020 football and netball season on Saturday 25 July 2020.
At this stage, our football season will comprise 10 'regular' matches plus a 3-weeks finals' series culminating with the footy Grand Final to be played on Sat 17 Oct 2020. The duration of the netball season is yet to be finalised but it too will commence on Saturday 25 July 2020.
Our season's fixtures are being drafted at the moment and should be available soon.
Stay tuned for further information – and I hope to see you at the Bear Cave on Saturday 25 July 2020 to cheer on our teams.
Regards – Darren Stait
—————————————————————————————————————————————————————————————————————————————-
27 June 2020
— BEARS LOTTO —
Do you want the chance to win $500 a week for 10 weeks? And help your favourite local sporting club at the same time?
If so, buy a ticket in Bears Lotto.
Bears Lotto will commence on Thursday 16 July 2020 and be drawn every Thursday night @ 8pm for 10 weeks – and the weekly winner will win $500 CASH.
The cost per ticket is $100 – that's only $10 per draw – which you can pay in full or in instalments of $20 per fortnight. Your full payment or first instalment is required by Monday 13 July 2020.
Maximum of 100 tickets will be in the draw – and if you want your favourite number, you'll need to get in early. And you can buy multiple tickets and increase your chances of winning the cash.
Vision of the weekly draw will be uploaded onto our club's Facebook page.
To register for Bears Lotto, please click here. When you've registered, we will send details to you on how to pay your entry fee.
Other information is:
To be eligible to win the weekly prize, ticketholder must be financial at the time of the draw. To be financial, the ticketholder's payment must be:

received in the club's nominated bank account; or
made by credit card (via telephone – Tel. 0407 559 383)
prior to the draw taking place.
Unfortunately, we cannot accept payments by cash at this time.
If a person elects to pay in fortnightly instalments and fails to honour an instalment and has not rectified the situation at the time of the next draw (and any other future draw), he/she will be ineligible to win the prize until such time as he/she has rectified the situation.
By entering Bears Lotto, all ticketholders who win the weekly prize agree to receiving the funds via EFT into his/her nominated bank account.
Ticketholders are eligible to win weekly prize on multiple times.
If an unsold or unfinancial ticket is drawn during any weekly draw, the weekly prize for the following week's draw will jackpot by $250.
Only one number will be drawn each week.
So register NOW for your chance to win $500.
This is a great opportunity for all Bears' supporters to help the club in these difficult times.
Regards – Darren Stait
—————————————————————————————————————————————————————————————————————————————-
17 May 2020
WEEKLY UPDATE
Our players will be allowed to commence training from Monday 25 May 2020 albeit subject to the following restrictions:
• players can train in groups of no more than 10 people plus a coach or the minimum number of support staff reasonably required to manage the activity;
• no indoor activity;
• players are required to maintain physical distancing of 1.5 metres wherever reasonably possible;
• all activity and training must be non-contact, and no competitions are to take place;
• no use of communal facilities, except for toilets;
• no shared equipment that touches the head or face or cannot be effectively cleaned i.e. soft materials or clothing.
• hand hygiene, frequent environmental cleaning and disinfection;
• players to use own equipment (eg. drink bottles) where possible and minimising the sharing of equipment also remains important.
The relaxing of the COVID-19 restrictions is an encouraging sign and I'm hopeful that we may get to play some matches at some time soon.
And I hope we get to play a sufficient number of matches that make for a meaningful season and these matches are conducted within a reasonable timeframe that has no effect on other sports or sporting carnivals.
And I hope there is no limitation on the number of spectators who can watch our matches nor limitations on social events and clubs are able to raise the necessary $$$'s to fund their sporting programs.
We wait with bated breath for the next development in the COVID-19 regulations.
Regards
Darren Stait
—————————————————————————————————————————————————————————————————————————————-
THE GLASSHOUSE CAULFIELD
05/05/20
The Glasshouse Caulfield is a partner of our club, and are doing it pretty tough due to the COVID-19 restrictions. So I'm asking all supporters of the Bears to give them a helping hand.
They're offering an online take-away food service (Wednesday to Sunday, 12pm-8pm) so you can continue to enjoy the wonderful meals you have come to know & love – and all Caulfield Bears supporters will receive a 20% discount on food items.
To place your order for your meal and drinks, please click here – and insert the promo code BEARS20 when checking out to receive your discount. What a win-win.
There has never been a more important time for us to support those who support us – and I encourage all Bears supporters to support this offer from The Glasshouse Caulfield.
Regards,
Darren Stait
—————————————————————————————————————————————————————————————————————————————-
PRESIDENT'S WEEKLY UPDATE
03/05/20
An interesting article featured in 'The Age' newspaper on Friday 1 May 2020.
In short, the main subject of the article is the current President of the Leopold Football Netball Club and he talks about his nervousness around the decision to resume our football/netball season. And personally I am similarly nervous.
I fear a decision will be made to resume the sporting season but it will be conditional that no supporters will be allowed to attend – and if we have no supporters, we will have limited income.
I fear social gatherings will be limited to 10 people or one person per 4 sq metres of floor space (our pavilion is approx. 150sq mts so we could have 37 people in the room at any one time – and it is very difficult to raise $$$'s if you have 37 people at a social function, a luncheon or post-match function).
I fear sponsors who have been impacted by the COVID-19 pandemic will be unwilling &/or unable to financially support clubs at this time.
I fear players/coaches/umpires will not be understanding of the financial plight of community clubs and not be prepared to suffer some of the pain.
And should my fears be realised, the financial impact on community sporting clubs will be devastating (probably ruinous for some). The income of clubs will be massively impacted yet expenditure will continue as normal – and I think we all know what happens to any organisation that spends more than it earns.
But I live in hope – in the hope that the decision-makers take a holistic view of the situation and seek counsel from some of their key stakeholders (ie. their constituent clubs).
I think I speak on behalf of many people in saying that we want community sport to resume as soon as possible as it is an important facet of societal living. This is why it is extremely important the decision-makers get it right so our competition and all other sporting competitions can resume as they were before COVID-19. Should they get it wrong, I fear for the survival of our club and other clubs.
To read the article in 'The Age' newspaper, please click here https://www.theage.com.au/sport/afl/why-the-return-of-local-footy-might-not-be-welcomed-by-all-20200430-p54ols.html.
Regards,
Darren Stait
————————————————————————————————————————————————————————————————————————————–
OUR MAJOR SPONSOR –
30/04/20


Sandleford has been a major partner of the Caulfield Bears for most of the past decade and we're proud to be associated with such a fine family-owned & operated business.

Sandleford has been supplying the Australian home improvement market for over 20 years. It began supplying letterboxes in 1995 and has since developed various product ranges suitable for use in and around the home (such as security safes, house numbers, outdoor play equipment and much more). A full product range can be found at www.sandleford.com.au.

Sandleford is a significant wholesale supplier in Australia servicing a wide range of high profile retailers including Bunnings Warehouse, Officeworks, Mitre 10, Aussie Disposals & Home Hardware and has recently expanded globally into both the USA & UK markets so if you need any home improvement products, get along to your local retailer and buy a Sandleford product to show your support of our fabulous partner.

And I encourage all Caulfield Bears supporters to visit their Facebook page https://www.facebook.com/Sandleford/ and remember to press 'Like'.

Regards,
Darren Stait
President





—————————————————————————————————————————————————————————————————————————————-
24/04/2020
At this time, we would normally be excited about our upcoming annual Anzac Day footy clash against Murrumbeena which in previous years has proven to be a fantastic day – a day that has consisted of a memorial service for our Anzacs and others who bravely served our country, a luncheon for our supporters and the supporters of our local rival to enjoy the social environment of our club and we've watched our players strive for the 'championship' of postcode 3163.
But this year is very different as we continue in the current state of uncertainty.
As you would be aware, the government has extended the Stage 3 restrictions until 11 May 2020 when it plans to review the situation in relation to the COVID-19 pandemic. Our governing body (Southern Football Netball League) is planning to meet with the AFL and other metropolitan football/netball leagues on the following day (ie. 12 May 2020) to discuss what season 2020 may bring. When I know the outcome of this meeting, I'll let you know.
I understand the various State Sporting Associations (ie. AFL Victoria, Cricket Victoria, FFA Vic, etc) in conjunction with Sport & Recreation Victoria have been in discussions relating to an extension to the usual winter sporting season (which is legislated to conclude at the end of September each year). If there is consensus between SRV & the SSA's that the winter sporting season be extended, a proposal will be submitted to all metropolitan councils and regional shires throughout Victoria for approval. Again, when I know more on this topic, I'll let you know.
With regard to our situation, I was pleased to read that Glen Eira Council is focussing on assisting local sporting clubs to:
• remain solvent throughout this time;
• provide development opportunities for clubs to strengthen their capacity; and
• support clubs and help plan for the recommencement of their activities as soon as this can be achieved.
GEC has recently announced a $7.3m Response & Recovery Package to provide immediate and ongoing financial support for individuals, local businesses, local community groups and sporting clubs. Whilst the specifics of this program are still being refined, I can say council has decided to not charge sporting clubs for their tenancy of sports grounds or pavilions for season 2020. This represents a saving of approx. $2,500 to us.
I'll keep you informed of developments regarding our season as they occur.
And as I mentioned in a previous communication, there has never been a more important time for us to be supportive of our local 'not-for-profit' organisations and I encourage all Bears' supporters to do whatever is in your powers to support these organisations so they can continue to do the good work they do.
Regards,
—————————————————————————————————————————————————————————————————————————————-
CORONAVIRUS UPDATE
16/04/20
The CEO's of the metropolitan football/netball leagues met with AFL Victoria earlier this week to discuss the potential commencement of the winter football/netball seasons.
It was decided that due to the extension of the government's Stage 3 restrictions until 11 May 2020, the leagues decided to maintain the status quo that the commencement of the sporting seasons will be postponed until 31 May 2020 (at the earliest).
It was also decided that the leagues would meet again on 12 May 2020 to discuss the commencement of the winter sporting season. This decision will be dependent on the government regulations regarding the COVID-19 pandemic at that time.
I'll keep you updated with developments as they occur.
Regards,
Darren Stait
—————————————————————————————————————————————————————————————————————————————-
HELP NEEDED
With the COVID-19 outbreak causing economic mayhem to the SME sector, many of our young players have lost permanent/casual work – and this is having the expected impact on their ability to pay rent, buy food, etc.
So if you're able to help by providing a permanent/casual job to these people or even if you need some work done around the home and would like someone else to do it for you (and pay them a small fee), please contact me.
We are in unchartered territory with this recent outbreak and whatever support we can provide to each other will be greatly appreciated.
Regards,
Darren Stait – Tel. (0407) 559 383
—————————————————————————————————————————————————————————————————————————————-
CORONAVIRUS HITS SFNL
The Coronavirus (aka COVID-19 pandemic) has struck the SFNL.
Following advice from the AFL, AFL Victoria, Netball Victoria, Victorian Department of Health and Human Services, Australian Department of Health and Vic Sport, our governing body (SFNL) and the other six metropolitan football leagues have collectively decided to postpone all community football and netball competitions until the weekend of Sat 2 May 2020.
All practice matches have been suspended/cancelled and clubs have been advised to cease training until further notice.
The leagues will re-convene on Tues 14 April 2020 to review and/or confirm this commencement date, subject to the status of the COVID-19 pandemic.
These decisions have been made with consideration to managing the COVID-19 issue, protect the health & welfare of players, officials, spectators, umpires and all stakeholders and the sustainability of the leagues and clubs.
These are very uncertain and challenging times for us all and I ask all Caulfield Bears supporters, players & officials to take care of yourselves, your family members, friends & neighbours at this time.
Regards,
Darren Stait
———————————————————————————————————————————————————————-
THE BEARS FACTS – SEASON 2020 – Edition 1
THE BEAR FACTS IS BACK!! After a decade in hibernation, the club's official newsletter "The Bear Facts" has awoken – and the March edition is a great read. Click on the link below to read all about what's happening at the Bear Cave. And if you wish to make a contribution to any further editions such as a witty anecdote, some photos of the past, or whatever you think is worthy of inclusion into the newsletter please send it to caulfieldfootballclub@gmail.com. HAPPY READING!!!
CLICK HERE — The Bear Facts – March 2020